Which insurers are known for paying claims?
When somone has suffered an injury or sickness, the last thing they want to worry about is whether they're covered by their insurance. In the insurance industry, claims are where the customer promise is delivered.
Insurance Business spoke to Accident and Health International's Renato Foenander to find out how AHI is making a difference to clients at claim time.
In times of crisis, people are looking for immediate assistance, not reams of paperwork or additional red tape. Yet the public perception is that insurers rarely pay a claim or that clients have to jump through hoops to get their claim paid out.
The good news is that the statistics are actually on the insurance industry's side. According to recent information released by the Australian Prudential Regulation Authority and the Australian Securities and Investments Commission, 84% of total and permanent disability claims and 87% of trauma claims are paid out in the first instance.
In 2017, AHI processed more than 1,500 personal accident and sickness claims, with payments totalling more than $11m, in addition to nearly 8,000 travel-related claims, with payments exceeding more than $24m. But it's about more than just processing and paying claims, while many insurers are turning to technology as a primary means of meeting consumer demands, AHI still places heavy emphasis on the human touch, using technology to enhance the person-to-person experience, not replace it.
"Humans are key to underpinning your technology and driving positive outcomes for the policyholder," Foenander says. "Technology can never be taught how to care and understand. AHI enables its people to access decision-makers in all areas of the business."
As an organisation that's been in operation for two decades, AHI counts its knowledge of the accident and health market and its deep understanding of clients as important differentiators.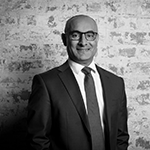 Renato Foenander
Deputy CEO / Claims Manager