Insurance Business Gold Medal Winner for 5th consecutive year
Underwriter of the Year for the fifth consecutive year
It is truly humbling to have Broker's vote AHI the gold medal winner for the 5th consecutive year in the Accident and Health Underwriting Agency of the year category. We are continually striving to innovate and maintain our market leading products and service levels, and receiving this award helps us to know we're on the right track.
We will continue our investment into technical and technological change without losing focus on our face-to-face and personable approach. Our drive to support our Broker family through digital platforms will also continue to grow over the coming twelve months, ensuring we can be there for you when you need us, wherever you need us.
Thank you for your vote - to the Brokers who have worked with us over the past 20+ years, thank you for your continued loyalty and support. To those that are new to the family, we look forward to building a lifetime partnership with you and supporting your and your clients' needs.
Excerpt from Insurance Business Magazine
The accident and health space is heavily dominated by direct business, so it takes something special for an underwriting agency to stand out to brokers. All of this year's medal winners have done exactly that – and all of them for multiple years. AHI continued its dominant streak in 2019, taking out the top spot for the fifth year in a row – a clear testament to the company's favour among brokers in this space. "Excellent product, continually enhanced. Service level, including claims, is outstanding," one broker said of AHI.
Read the full article Insurance Business Mag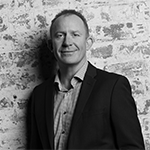 Danny Byrnes
Chief Executive Officer