COVID-19
Riding the wave
AHI - Still 'Protecting what matters most'. It's business as usual for us, even if it's been unusual for most.
AHI has been 'protecting what matters' most for over 20 years, and during that time we've maintained our approach to sustainable underwriting to ensure we're here to support our broker partners and their clients now and into the future.
COVID-19 has not changed that, we continue to be the trusted partner that understands our clients' changing needs and provides them with advice based on our award-winning team's knowledge and expertise, giving our brokers and clients the confidence to re-establish their businesses, knowing we've got them covered.
Our teams in Sydney, Melbourne, Brisbane, and Perth are ready to help brokers navigate their clients' new operating requirements, ensuring they have the most appropriate cover.
During COVD-19 AHI, like many businesses, had to protect one of the things that matter most to us, our staff. We were fortunate that we began our digital transformation 2 years ago, so our staff, brokers, and clients felt minimal disruption as our team moved to work from home, while continuing to provide award-winning claims service with an exponentially higher volume of claims - claims were double that of the previous year in the period March to April 2020.
I'm proud of our teams' ability to pivot during this crisis and not lose sight of being there for our brokers and clients when they needed us most. They continue to prove why year after year, we are a gold medal winner and market leader in the accident and health category.
With the backing of the Tokio Marine Group, one of the largest global insurers, AHI has been able to maintain our market-leading cover. As one of the first insurers to remove mental health exclusions from our policy wordings, we pride ourselves in supporting businesses to focus on employee wellbeing, particularly as the effects of social distancing and economic impacts continue to ripple. EML, one of our strategic partners, offers employers prevention policy design services. Whilst Best Doctors (automatically included in all of our Individual Personal Accident policies) provide support when an insured and their families need it, no matter where they are in the world.
AHI Assist and AHI Telehealth, included in our Travel policies, continue to provide travellers and expatriates with access to trusted advice when they become unwell while overseas. Minimising harm to employees and losses for businesses as borders open and travel resumes.
To understand more about our market-leading policies, click here for product information and read our case studies. Or feel free to contact one of our underwriters who can work with you to find the right cover.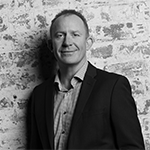 Danny Byrnes
Chief Executive Officer