Post-COVID Travel Risk and Remote Worker Management and Planning
Preparing businesses and employees for new ways of working
Whilst much of the way we have undertaken business has shifted significantly over the last few months, an organisation's Duty of Care responsibilities have not.
According to SafeWork Australia, a Company's duty of care surrounding COVID-19 falls into five broad categories:
Duty to workers (employees, contractors, etc)
Duty to others (customers, visitors, etc) in the workplace
Duty to maintain the workplace and facilities
Duty to provide information, training, instruction and supervision
Duty to consult (employees)
To address these responsibilities and the changing landscape, companies need to undertake ongoing risk assessments. This includes foreseeable risks, and as domestic travel resumes and organisations plan for international borders to open AHI Assist security partner & PACE First CEO, Shaun Filer says,
"there is an urgent need for businesses to review or develop their travel risk and remote worker management plans to prepare for a "new normal"."

Shaun Filer , PACE First CEO
Planning with your clients to stay ahead…of the curve
It is always a benefit to have access to trusted and measured advise when it seems the downward spiral has begun, but organisations that have dedicated time and headspace to plan and prepare for the "unforeseeable" have a response and recovery that far exceeds those just reacting.
On January 25th, Australia saw its first case of COVID-19, and we saw the first wave of lockdowns with border, business, school and university closures and hundreds of thousands of jobs lost. Unfortunately, this is not surprising to many in the international assistance and travel risk space, who have been waiting for a 1918-level global pandemic - and now that we've all lived through the initial months of a pandemic – we're reminded of the fair warnings voiced by world and business leaders in recent years (Barak Obama, Bill Gates, etc).
"In those initial days and weeks, the breathe before the plunge if-you-will, there were so many business leaders we spoke to that identified the pandemic risks, but were lulled into believing COVID would have limited impact on global travel and business – similar to SARS / MERS / Ebola. As our contacts in various departments of Health and Human Services confirmed that the incubation period, R nought (the reproduction number) and underreporting of cases made COVID-19 a unique risk.
The PACE team started reaching out to clients, sent out alerts and provided a gratis 'Pandemic Plan' document to help organisations reframe their thinking, not to fear-monger, but to ensure we did our part in helping others prepare and not "undercook" their solutions." AHI Assist security partner & PACE First CEO Shaun Filer said.
How AHI Assist Operated during COVID-19
As country borders began to close, AHI Assist was managing aeromedical evacuations and supporting AHI clients in remote areas abroad that would now require more time, special clearances, and complex inter-government negotiations to resolve.
"We did have critical evacuations that needed to occur from the Pacific and Africa. Every day there were new challenges that everyone – our team, flight crews, people in government – we were all working to understand and navigate these restrictions. To be honest, we were only able to achieve some of those evacuations because of close contacts in government and their support." Shaun Filer said.
The AHI Assist team were really proud to receive positive feedback from both brokers and clients during difficult times.
"I have received outstanding support and assistance from AHI Assist. Their care, empathy and professional response to my questions and quick action were outstanding."
Ingrid* , Government Department
What should your clients be doing now?
Around the world, businesses are laser-focused on business continuity and recovery. More employees are required to work remotely or work from home, and those that are starting to return to offices are faced with new challenges of social distancing compliance. As borders start to open-up and business travel recommences, the relationship between business recovery and employee welfare becomes even more complex.
These last months have also demonstrated that more-and-more clients are using the plans, technologies and support that were developed for corporate travellers – and they have opened that door to support all-workers.
"We are seeing the Guardian app that was designed to cover travel risk used for welfare checks of people working at home. We are seeing local COVID updates from our intelligence partners being pushed to every employee. Of course, preparing the business for challenges and change is critical – ensuring there are no unforeseen gaps or surprises. But it has been most interesting to see organisations get creative and use these services to support their continued business – support their people with no link to travel. It's a lesson that organisations can have the same standards-of-care and support for both travellers and non-travellers." Shaun Filer concluded.
Click here to download the 'Pandemic Recovery' template (an update to February's 'Pandemic Plan').
If you or your clients are interested in exploring travel risk / remote worker management support, please contact one of our dedicated underwriters.
*name changed to protect privacy
USEFUL LINKS FOR COMPANIES :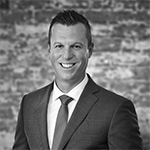 Jarrod O'Connor
National Underwriting Manager