Corporate Travel | COVID Cover Update
AHI providing clear and concise information for Brokers on our COVID cover for Corporate Travel.
Watch our COVID Cover Update
Listen as David Foote, National Development Manager, AHI, and Shaun Filer, CEO Pace First and AHI Assist Director provide a summary of AHI's COVID cover and Risk Mitigation advisory services to support Brokers and Clients.
Broker Factsheet: AHI COVID Cover Update
During uncertain times, AHI is committed to ensuring you can protect what matters most, your clients and your reputation as a Broker. As Governments move us into the next stage of managing the pandemic, this new state of "living with COVID" creates uncertainty for your clients as they navigate the new world of corporate travel and the risks that this creates.
As your accident and health underwriting partner, you can rely on our 20+ years of experience to help you provide your clients with the best advice for their risk – ensuring you protect not only their people and business but enhance client experience through proactive advice.
With research showing that travel is expected to return to 80% of pre-COVID levels, AHI understands that businesses need to make risk decisions with confidence, and we not only want to do the right thing by our joint clients, but we also want to provide clarity on their cover. As such, we've created this factsheet (click here to download), as well as our summary video above to provide you with clear and concise information around AHI's COVID cover, and how you and your clients can expect our policy to respond to some of the more common scenarios that we expect to unfold.
For more details on our cover, you can read our SPDS here.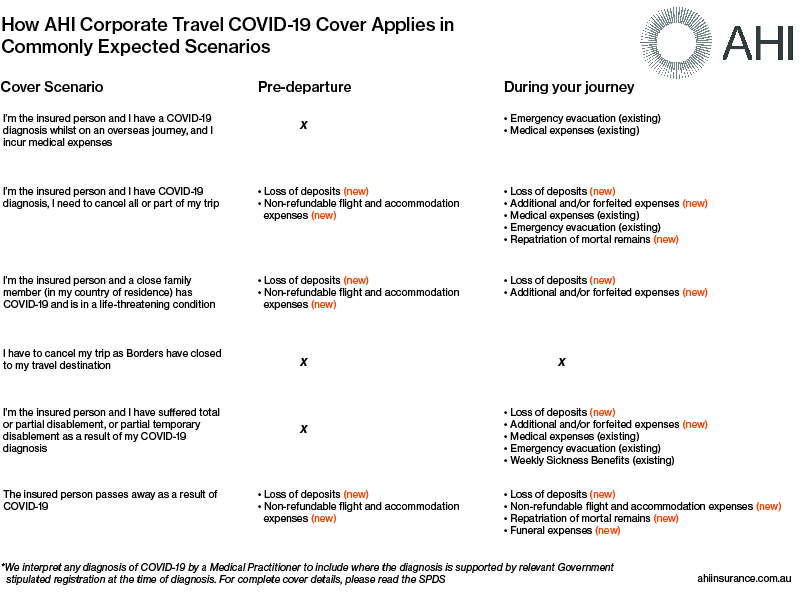 What Brokers Need to do
New Policies
The easiest way to ensure your clients have comprehensive Corporate Travel Cover is to quote and bind through the AHI Portal. The COVID cover additions to our existing policies will be automatically applied to all new business*.
New Business Checklist:
Quote and bind on the AHI Portal
Organise a time to speak with AHI Assist partner, Pace First for risk mitigation advisory services
Provide comprehensive travel declarations
Renewals
As with new business, additional COVID coverage will be automatically applied at renewal time*. When speaking with your dedicated underwriter, it is critical to provide an updated, and comprehensive travel declaration, as your clients destinations and risk appetite may have changed.
If you feel your client would benefit from pandemic planning and recovery advice, please contact your dedicated underwriter to organise a time to meet with AHI Assist partner, Pace First.
Existing Policies
In line with our commitment to protecting what matters most, revisiting existing policies is critical to ensure that travel declarations are current, and coverage enhancement advice is offered. When speaking with your dedicated underwriter, ask for assistance with an advice campaign to upgrade cover mid-term.